AMCA is the first pro-American quality certification focusing specifically on American manufacturers, machine shops, distributors and other industrial suppliers in the United States. AMCA is internationally recognized as the 'Gold Standard In American Quality' in the manufacturing sector. Certification integrates U.S. quality standards with ISO international  standards… making AMCA a unique and sought after certification.

Formerly Industrial Leaders Group (ILG), AMCA has roots dating back to 2003 and is fully accredited by the American Manufacturers Network (AMN). ILG renamed itself AMCA (American Made & Customer Accredited) to bring more effective oversight to quality management systems in the United States. Before AMCA, U.S. manufacturers had few options outside of foreign-based ISO certification.
Unfortunately, ISO's reputation has been declining for years, mainly due to the number of fake ISO certifications flooding the U.S. marketplace. For this reason, AMCA developed a customize that guarantees the authenticity of every certification which hass revolutionized quality certification in North America.
The 'Gold Standard' vs Fake ISO Certificates

Being a pro-American quality certification is just one reason why AMCA is widely respected in the manufacturing community. AMCA's mission has long been to remain America's gold standard of quality certified manufacturers. Industrial buyers are increasingly turning to AMCA certified suppliers in their search for products and services. Mainly because AMCA-ISO combined certification demonstrate quality based on actual merit. Legitimately earned accreditation. Not a certification status that was simply purchased.
The main issue with ISO is literally anyone can buy a bogus ISO certificate and have it in their hands overnight. In fact, there are thousands of manufacturers right now using fake ISO certificates to dupe their own customers. The reason for these phony ISO certifications is because of the easy profits with literally no markup.
Any scammer can start a so-called ISO "registrar" and begin selling ISO certificates like candy. Such scammers are known as "certificate mill' operator." They have absolutely no ethics. It's all about the profit. Worst yet, they even sell ISO certifications for critical industries such as medical, aerospace and environmental to any business with the money. It's a shame they are putting greed ahead of security, safety and health of human beings.
The reason scammers get away with selling totally fake ISO certificates is because there is a serious lack of oversight. Further, there is no regulation or accreditation requirements as per ISO's guidelines. Nothing is done to slow down the spread of certificate mills making millions of dollars with their counterfeit ISO registrations. Learning how these con-artists operate is your best weapon to avoid being scammed.
How To Identify A Fake ISO Certification
First, it's important to clarify that AMCA is not bashing ISO by any means. We are a supporter of the International Organization for Standardization (ISO). In fact, much of AMCA's requirements for certification is based on ISO's guidelines. Therefore, the problem is not ISO itself. The problem is the fake ISO certificates in the marketplace duping companies and consumers.
So how do you identify bogus ISO certificates? There are several ways to identify them. First of all, if you've been issued your ISO certification in less than a month. It's guaranteed to be fake. Most scammers will ship your certification within 1-2 weeks. Often, they want their money faster so they'll ship your certification in just a few days! In any case, it's a sure tell sign you bought a non-compliant ISO certificate. Legitimate ISO certification takes at least 60 days, and often longer. Naive companies don't know any better.
Secondly, if your certification was issued without an on-site audit. That again is a sure tell sign you are dealing with a mail order ISO certificate mill. Of course, during the Covid-19 pandemic things have changed slightly as for on-site audits being difficult. However, it doesn't change the fact certificate mills do literally nothing to ensure customers are compliant to ISO standards. Some of these scammers will just ask for a few customer C-PARS (performance ratings) and claim you are "certified." Nothing else is done. No gap analysis. No assessment. No quality manual. No audit. No compliance. Nothing! It's nothing more than a money racket to mislead B2B buyers and consumers.
It's absolutely critical you avoid certificate mills at all costs! If you get caught with an phony ISO certification, your reputation will take a serious hit. And it may never recover.
America's 'Gold Standard' In Quality Oversight
AMCA does not have ISO's problem of fake certificates flooding the market. Mainly because AMCA can only be legally obtained from AMCA directly or through an authorized accredited certification body. All AMCA certificates are guaranteed to be authentic. This is one of the primary reasons why AMCA is increasingly in demand among  industrial buyers and suppliers. AMCA-ISO certifications are proudly pro-American and guaranteed 100% valid.
Of course, strong oversight measures does not alone make AMCA the 'gold standard of quality certified American manufacturers.' We've earned that reputation due to several other factors. Firstly, AMCA has 'Buy American' requirements written into its standards that is unique in the quality management marketplace. We also have an impartial accreditation program that is unlike any other. All AMCA certified companies must be approved (accredited) by their own customers. In other words, your own customers must approve you for certification.
Our 'Secret Sauce': Quality Consultants
Lastly, and perhaps the biggest reason for AMCA being 'America's gold standard of quality certification,' is our national network of consultants. AMCA has established strong relationships with quality professionals nationwide specializing in a wide range of ISO standards. All of whom are experienced in the manufacturing sector. This is important because working with a quality consultant experienced in your industry is the most important factor of the entire quality certification process. Nothing is more critical. Your consultant will make or break your quality certification. So choose wisely!
AMCA Is Internationally Recognized
Our aggressive marketing and public relations campaigns is another reason why AMCA has been dubbed the gold standard of quality certified manufacturers in the United States. AMCA has ongoing advertising and PR campaigns operating across the country and abroad. We also utilize private organizations as well as state and federal agencies to help get the word out.
AMCA's founder has ties with several members of congress and works with patriotic activist and conservative media outlets supporting the American Quality Movement. However, our greatest weapon is the dozens of talented quality professionals we have established relationships with across the country. Without them, AMCA would not be what it is today.
Our team of consultants and associates is taking our mission internationally to increase the global competitiveness of American manufacturers. We have PR and social media platforms overseas targeting the most important trading partners of the United States. Including Canada, Mexico, China, Japan, Germany, South Korea, United Kingdom, Switzerland, Netherlands, and France. Additional countries will be reached within the coming year as we establish more funding. Our vision is simple: Leave no doubt… "American quality is the gold standard of the world." Period!
Our Vision: "American Quality Movement"
AMCA created the 'American Quality Movement' to promote U.S. made products worldwide and revitalize the U.S. manufacturing sector. AMCA's mission is to make American manufacturers known for superior quality. Our bold and ambitious plan is to spark a new industrial revolution right here in the United States. The spark has been lit.
What started out as a crazy idea is spreading across the country and abroad. The driving force of this grassroots movement is the spirit of the American people. Particularly, U.S. manufacturers owned by liberty loving patriots and veteran business owners proudly certified by AMERICA'S GOLD STANDARD IN QUALITY.
AMCA vs ISO (Not Competitors)

Being AMCA-ISO certified ensures your company is recognized for quality and integrity far above ISO 9001 standard. Companies certified to AMCA standards are over-seen and accredited by their own customers… making AMCA the only truly impartial accreditation in quality certification. Moreover, our bold pro-American agenda and stance against the rise of globalism has come at a critical time.  AMCA proudly defends American Quality & American Independence.
ISO is a respectful standards developer and certification is useful when implemented effectively. However, studies have shown most ISO certified companies, particularly small and mid-sized businesses, do not feel their ISO certification was worth the investment or the hassle. In fact, many businesses, mainly in the United States, decide to NOT renew their ISO certification. Others turn to fake certificates as recently explained. None of this is necessary if you are approved for AMCA-ISO quality certification.
Declined By AMCA? Apply For ISO Certification
ISO certification is a good second option for those unable to qualify for America's gold standard in quality certification. AMCA is unquestionably the most recognized pro-American accreditation ever established. Our guidelines and requirements are integrated with ISO's international standards and pro-American quality  standards. For example, AMCA requires all certified organizations to support a portion of the 'Buy American Act.' In other words, manufacturers, machine shops and other producers are asked to purchase a percentage of their materials and equipment that is manufacture in the United States.
Other requirements to achieve the 'Gold Standard In American Quality' include being subject to an AMCA audit. All companies certified by AMCA under go a gap analysis and assessment of their quality management system. These firms are also required to submit customer performance ratings (C-PARS) on a regular basis. In addition, AMCA investigates any and all complaints submitted to the Better Business Bureau (BBB), Google Business Reviews, Dun & Bradstreet and other trusted other sources. Including the trade association American Manufacturers Network (AMN) which oversees and rates thousands of manufacturers.
Added Value: AMCA-ISO Certification

AMCA understands some companies require both AMCA and ISO certification. Therefore, we offer the ability to certify your firm for any ISO standard through our national network of quality consultants. This is a guaranteed way to save your company a lot of money and time.
It's important to understand, nothing is more important in ISO certification than selecting the right consultant and registrar. We make it easy for you by providing you a local quality professional that can meet your specific needs. And we guarantee your satisfaction. If you are not 100% pleased, we will find you another ISO specialists at our expense!
Our consultants specialize in various ISO standards primarily for the manufacturing sector. Thus, AMCA can get you ISO certified to any standard you need from either an accredited or non-accredited registrar. Including ISO 9001, ISO 14001 Environmental, ISO 45001 Health & Safety, ISO 13485 Medical, AS9100 Aerospace, and many other standards. Give us a call for a quote at 857-265-8884. We may be able to work out a package deal for AMCA and ISO. All registrars are independent of AMCA as per ISO's guidelines.
Gold Standard Of U.S. Quality Known Worldwide
Being internationally recognized as America's gold standard in quality certification has tremendous value. Companies around the world are reaching out to AMCA certified manufacturers because it's the ONLY certification that specifically represents true American quality.
AMCA is making those three words 'Made In USA' mean something again to businesses and consumers worldwide. China may lead the world in cheaper goods and that is perfectly fine since they are only meeting market demand. However, people will always pay for superior quality. This is where the United States can lead the world again utilizing America's superior technology, innovation and skilled engineers to dominate quality-driven  products and services.
America's greatest strength has always been the wide diversity of talent and cultures from across the globe. AMCA's mission is to ensure the world understands U.S. manufacturers, machine shops, steel mills and other industrial suppliers are the 'gold standard in the international marketplace.'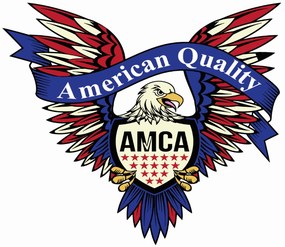 The AMCA Eagle (Official Seal)
Many people have asked us about the meaning of the eagle embossed on all AMCA certificates. Well, the 'AMCA Eagle' is our trademark and official seal/logo. Its use is authorized only to companies achieving AMCA (the gold standard of American quality certification). The logo/seal is a beautiful hand drawn design showcasing the American bald eagle in a dominant position. On the eagle's chest is an armored shield that symbolizes AMCA's bold commitment to remain an independent registrar and developer of American quality standards.
There are 17 stars on Crusade-style shield held by the Eagle. Thirteen of stars represet the original colonies of the United States. The remaining four stars symbolizes AMCA's mission statement of Integrity, Accountability, Leadership & Independence. The 'AMCA Eagle' also has a combination of 50 feathers in various sizes in the colors of red, white and blue. The feathers represent the 50 states in the union. In short, the AMCA Eagle symbalizes our mission and vision of being internationally recognized as the American Gold Standard of Quality for the manufacturing sector.